With the United Nations goal of achieving Universal Health Coverage by 2030 less than eight years away, the role of digital technologies in accelerating progress towards providing quality healthcare – by improving the accessibility, affordability, quality and reach of health systems – has assumed fresh importance and is rising up the political agenda.. COVID-19 showed us how digital health – including open and transparent data sharing, telemedicine appointments and the use of other digital tools – could enhance health outcomes. It is important for us to learn from these lessons of the recent pandemic and accelerate the adoption and roll out of digital health technologies both to mitigate the impact of future health crises and to achieve universal health coverage by 2030.
From November 29 to December 3, 2021, over 70 organisations, across 40 countries, from Guatemala to the Philippines, came together to discuss the challenges and opportunities offered by digital health. The first global Digital Health Week, organised by Transform Health, was a resounding success!
During Digital Health Week, organisations hosted events, ran campaigns, published articles, and brought together key stakeholders to discuss how digital health could accelerate progress towards Universal Health Coverage (UHC) by 2030 in their countries and contexts. The multistakeholder conversations at a national level allowed organisations, including governments, to reflect on issues specific to their countries and contexts. The ability to conduct these meetings in local languages also broadened the scope for engagement.
Organisations made commitments setting out how their work in areas of advocacy, capacity building, programs, research and financing will contribute to the digital transformation of health systems in their country or context.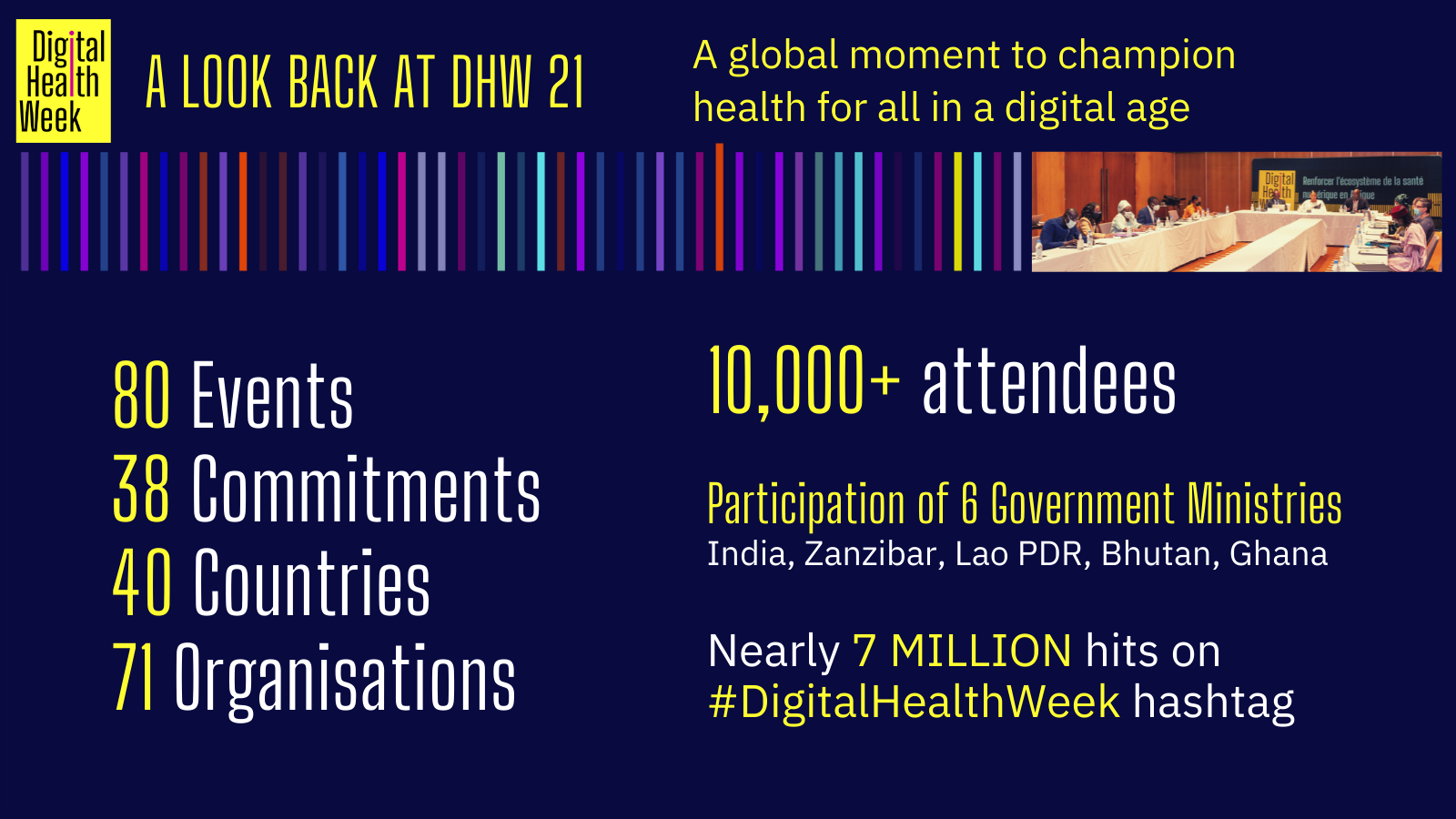 Over the course of one week 80 events were hosted and 38 commitments were made across 40 countries by 71 organisations.
More than 10,000 people tuned in to the various events during the week. Online, people engaged with the hashtag #DigitalHealthWeek nearly 7 million times!
For a quick primer, read the Digital Health Week key messages here!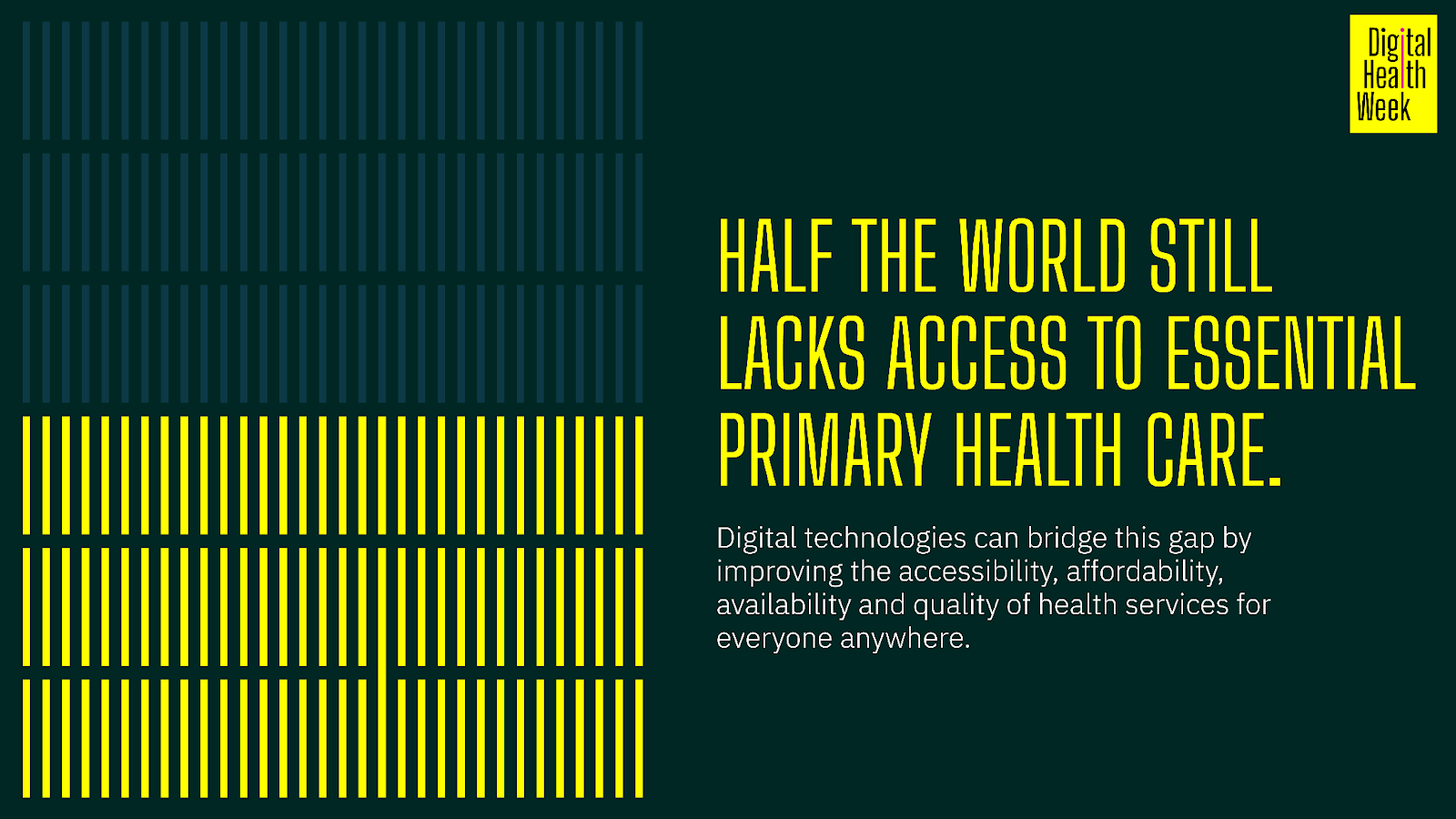 Events during Digital Health Week 2021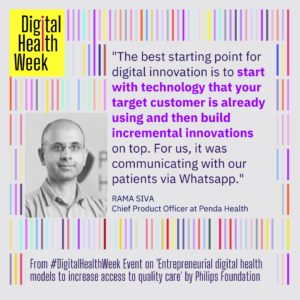 The 80 events held during Digital Health Week 2021 were hosted by organisations across the globe, including the World Health Organisation, GIZ (German Development Cooperation), the Indonesian Public Health Association (IAKMI) and the Brazilian Association of Telemedicine and Telehealth.
In Latin America, the Central American Health Informatics Network (RECAINSA), hosted the first Digital Health Forum, a space where over 2500 professionals from the public, private and academic sectors converged, sharing their experiences and learning.
Digital Health Week offered participants an opportunity to promote research and findings to a wider audience. For instance, the International Federation of Medical Students' Associations (IFMSA) shared the preliminary findings of their global digital health survey, which found that the current status of medical education does not provide sufficient exposure to digital health within medical schools globally and remains a neglected area. In another event, the Digital Connected Care Coalition (DCCC) and UHC2030 brought together private sector companies working on digital health innovation to showcase digital solutions from Rwanda, Mexico and the Philippines. They discussed the role of the private sector in digital health adoption and scale.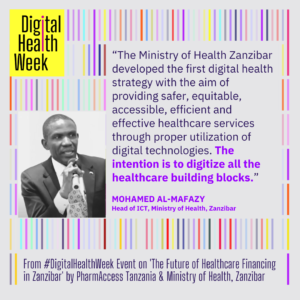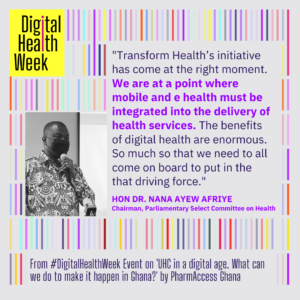 Several Ministries of Health also participated in Digital Health Week 2021 in their respective countries, including organising their own events in collaboration with civil society partners. In Lao PDR, the Ministry of Health organised an event in which it identified seven clear priority areas for action in 2022, namely – the elaboration of a digital health strategy, governance, project management, standards, enterprise architecture, eGovernment, and a digitally enabled workforce. During the event, which brought together various digital health stakeholders, the government sought the commitment of participants to carry forward each of the seven priority areas. The stakeholders committed to meeting in early 2022 to launch the plans drafted during the Digital Health Week event.
In Accra, PharmAccess Ghana brought together decisionmakers from key institutions such as the National Health Insurance Authority (NHIA), the Christian Health Association of Ghana, and Health Facilities Regulatory Agency, among others, to build public and political understanding and support for the digital transformation of health systems and the use of data to achieve universal health coverage.
Commitments during Digital Health Week 2021
During Digital Health Week, organisations also made commitments to promote the digital transformation of health through their work – be it programmatic interventions, advocacy measures, capacity building of healthforce workers, or financing digital health interventions.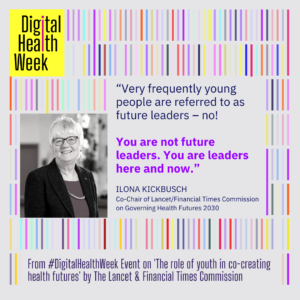 Notable commitments include:
Allocating CHF 25 million towards human-rights centred digital health interventions globally.
"Over the next three years, Fondation Botnar is committing to allocate CHF 25 million to a new portfolio of work, including programs, policy, advocacy and partnerships, at the intersection of human rights and digital health. We are determined to ensure that digital health interventions address health inequalities among young people and promote human and child rights-based governance of the use of digital data/platforms and artificial intelligence."
Reaching 36 million people in resource constrained communities in India with telehealth interventions
"Apollo Remote HealthCare Intervention programs have provided health care services to about 16 million people across various projects in India as of July 2021. The aim and target for these programs is to impact an additional 20 million people in resource constrained communities by the year 2025, thus touching the lives of at least 36 million people."
Equipping 32,000 community health workers with digital tools to impact 18 million people in five countries in Sub-Saharan Africa
"Living Goods, with our government partners, will support up to 32,000 digitally-enabled community health workers and supervisors to provide quality health care to up to 18 million people across five countries by 2026. As part of this support, we commit to expanding our use of digital technology and data as tools to strengthen government systems and achieve national impact.
Expanding access to care for 400 million people in underserved communities globally by driving digital and technological innovation.
"Philips is committed to improving the lives of 2.5 billion people a year by 2030, including expanding access to care for 400 million people living in underserved communities. To help expand access to care, we are: • Driving digital and technological innovation along the health continuum • Developing new business models and financing solutions • Building strong partnerships within an ecosystem of collaboration."
Looking Ahead
Digital Health Week will be back in 2022, with more events around the world to champion, advocate, and discuss the role of digital health in delivering health for all. Transform Health will be advocating for the need for a global health data governance framework. Stay tuned for a theme announcement shortly and more information on how organisations can join this global moment.
If you participated in Digital Health Week 2021, we would love to hear your reflections! Leave a message in the comments with what Digital Health Week 2021 meant to you. Follow our channels on Twitter, LinkedIn  and newsletter for the latest news and announcements about how to get involved early in Digital Health Week 2022.