Digital Health Week, from November 29 to December 3, 2021, is a global week of action to champion digital health and its role in achieving health for all. The pandemic has accelerated the uptake of digital technology and the use of data to achieve health outcomes. We now need to ensure digital health and data are scaled up and able to deliver universal health coverage by 2030.
During this week of action, organisations will come together to champion digital health, and discuss the barriers and opportunities of digital transformation in their contexts. They will also be able to highlight the work they are doing and discuss with others how they can support, encourage and contribute to the digital transformation of health systems.
Today, we launch the official website, where organisations can sign up and participate, find key facts on digital health, and learn more about the Week.
Participating in Digital Health Week
Digital Health Week is open to everyone! Anyone involved in digital health can participate:
Champion the cause of digital health – run social media campaigns, share key messages, publish articles, champion digital health and promote your work.
Host events, launch an initiative, or take an action – organise a public action during Digital Health Week and have it featured as an official DHW Event.
[Submit your event here!]
Make a public commitment – make a pledge as to how your work will advance the digital transformation of health in your context, and have it featured in the list of public DHW Commitments. [Submit your commitment here!]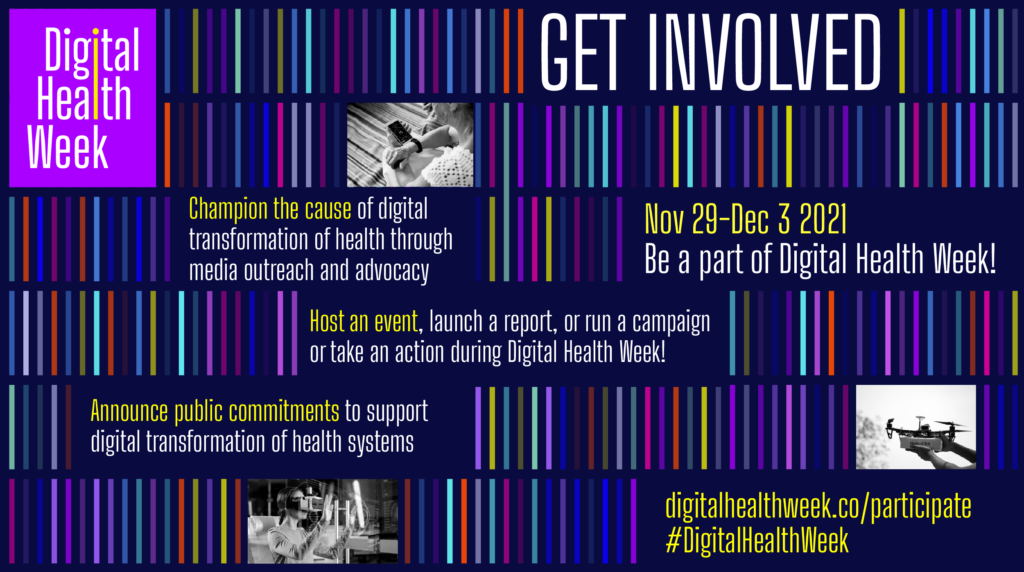 An opportunity to come together
Digital Health Week offers an opportunity for those working on the digital transformation of health to learn from each others' work, discover the progress being made around the world, and collaborate to find solutions to the barriers we still face.
The digital transformation of health requires political will. It requires diverse stakeholders to work together on common solutions that will deliver better health outcomes for everyone. Digital Health Week is a moment that allows organisations to engage in this collaboration and conversation in a concerted time frame.
Visit digitalhealthweek.co to learn more. Follow Transform Health on Twitter and LinkedIn, and subscribe to our newsletter for updates on #DigitalHealthWeek.
Note: Digital Health Week is not a Transform Health event or moment. It is a space for anyone interested or engaged in digital health to tell their story and profile their work, in collaboration with others. Transform Health is coordinating the launch of this inaugural Digital Health Week.