Transform Health statement ahead of the 75th World Health Assembly
Ahead of the 75th World Health Assembly, taking place on 22-28 May 2022, Transform Health is calling on WHO and its Member States to endorse a new set of Health Data Governance Principles and to develop a global framework to maximise the public value of health data whilst protecting individual rights.
Transform Health is calling for the development, and subsequent adoption, of a global health data governance framework. We call on governments to:
Put health data governance and a global framework on the agenda of the next WHO Executive Board meeting and World Health Assembly.
Sponsor a resolution mandating the WHO to develop a global health data governance framework, ensuring it is developed through a fully inclusive process.
Endorse the equity and human rights based Health Data Governance Principles – already endorsed by over 90 organisations – and ensure they underpin a global framework.
By taking action on this agenda, Member States have an opportunity to advance both domestic and international health targets and increase public confidence in data sharing. Strengthening the equitable governance of health data, and a global framework to guide this, will be vital to achieving UHC and also essential to get us out of the next pandemic.
Health data is ubiquitous
As health systems and other parts of our lives have become increasingly digital, volumes of health data and health-related data continue to expand. However, national, regional and global rules to govern the collection and use of data have not kept pace with the growing potential for data to support better health and wellbeing, or the potential harms arising from data misuse.
Transform Health is calling for the development, and subsequent adoption, of a global health data governance framework.
The COVID-19 pandemic has demonstrated the importance of timely, accurate and disaggregated health data, and the value of sharing data within and across borders. At the same time, misinformation and cases of health data being used for political and commercial gains have highlighted the need to build public trust in data systems and safeguard personal data.
Also read: Maximising The Value of Health Data For Public Good: Launching The Health Data Governance Principles
Better data governance key to advancing health goals
As Governments meet in Geneva this month, health data, and how it should be governed, must be front and centre of discussions. Maximising the public health value of data is key to accelerating progress towards all health goals. Without coordinated approaches to data governance, grounded in 'Health for All' values such as equity and human rights, the benefits of data and digital transformations will not be shared throughout society.
These issues must be central to discussions on progress towards the health-related Sustainable Development Goals and WHO's triple billion targets on accelerating universal health coverage (UHC), increasing protection from health emergencies and improving health and wellbeing. Health data governance must also be on the agenda of World Health Assembly strategic roundtables on reorienting health systems towards primary health care; the economics of health for all; and emergency preparedness, response and resilience.
Why we need a global health data governance framework now
Although some countries have developed health data governance policies and legislation, such instruments often tend to be narrow, addressing specific issues such as privacy and data security. Approaches to health data governance rarely consider equity and the full spectrum of human rights, or take a comprehensive view of health and wellbeing, thus failing to ensure that the best possible health value is created through data and digitalisation. Furthermore, existing policies rarely lend themselves to effective regional or international cooperation and exchange of data for public good.
A comprehensive global framework on health data governance – framed around key objectives of protecting people; promoting health value; and prioritising equity – would guide countries towards a common vision of health data collection and use that maximises public benefit within and across borders, whilst safeguarding individual rights. Such a framework must be grounded in core equity and human-rights principles.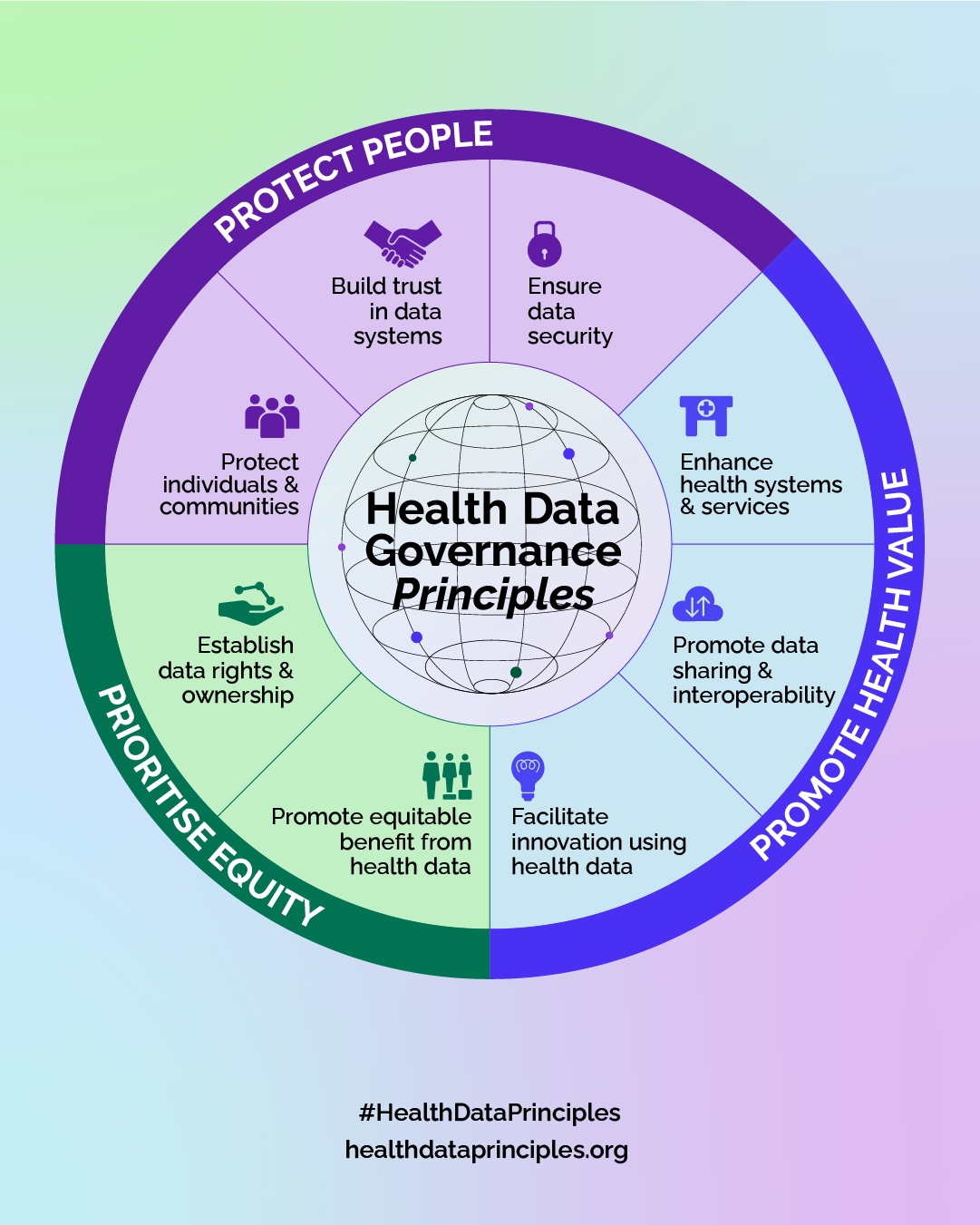 Read and endorse the #HealthDataPrinciples
WHA SIDE EVENT, 25TH MAY AT 18:00
Representatives of WHO Member States are invited to attend a WHA side event on 'Strengthening the Governance of Health Data' at 18:00-19:30 CET on 25th May at the InterContinental Hotel Geneva. The event is co-hosted by Transform Health, FIND, Fondation Botnar, PATH, PharmAccess, PMNCH and UNITE. You can also register to view the event online. For more information, contact [email protected]