Transform Health partners with regional networks in various parts of the world to influence regional agendas, and drive the digital transformation of health at a regional level. The Central American Health Informatics Network (RECAINSA) is our partner network in Latin America. They have been instrumental in advancing our objective of a global health data governance framework by convening multistakeholder roundtables in Latin America and gathering perspectives on how this issue relates to the region.Below, find a short interview with RECAINSA's General Manager, Joseline Carias, on their work in advocating for a health data governance framework in Latin America.
How does RECAINSA further the digital transformation of health? Tell us more about the organisation.
RECAINSA is a non-profit organisation, which began its work as a volunteer organisation, precisely with the intention of promoting digital health as a strategy for countries – first in Central America and then in Latin America and the Caribbean – as a way to improve the population's access to health services, improve the quality of health care services and contribute decisively to achieve universal health coverage, which is a common goal in all countries of the world.
RECAINSA as an organisation has these principles, the vision of being a stakeholder that can contribute being that connector between the stakeholders and that through these connections governance can be strengthened, generating the necessary spaces to discuss, plan and drive forward the digital transformation that is a process in the short, medium and especially long term. There are issues that in some countries depending on the level of maturity are already quite solved and many others that have not been able to solve the most basic issues.
RECAINSA recently organised the first multi-stakeholder regional roundtable on the Health Data Governance Principles What role do you see the Principles playing in Latin America?
This initiative developed by Transform Health is fundamental given the moment we are living in. I believe that since the pandemic, we have seen digital acceleration of the whole society, but especially of the health sector, as a consequence of mobility restrictions and the emergence of strategies such as telemedicine and teleconsultation as a viable way to bring and maintain continuity of care for patients. But this has also brought some significant challenges in terms of data governance, such as – Who owns the data? How do you ensure the security of patient data? How do you ensure the appropriate use of data by governments? I believe that the Principles address in a holistic way the need to have a solid data governance structure to cover the aspects mentioned above that have to do with equity, security and use of data to the extent of responsibility of each actor involved.
Objectives & structure of workshop
The main objective of this first roundtable was to present the Health Data Governance Principles, developed by Transform Health, which were launched on April 7, 2022, and whose aim was to strengthen health data governance approaches at both national and regional levels. In this sense, the round table focused on:
Presenting the Health Data Governance Principles and establishing the need for a global framework to strengthen health data governance in the Latin American and Caribbean Region.

Obtaining the support of governments, regional authorities, cooperation agencies, academia and civil society in the Latin American and Caribbean region for this agenda, highlighting actions that can be taken, with emphasis on the opportunities offered by the 75th World Health Assembly.

Relevance of the Principles in Latin America
Despite the existence of some data governance regulation in several countries, there are currently no comprehensive, globally and regionally agreed upon principles for health data, nor is there a regional guiding framework to guide and inform countries in constructing their own health data governance legislation and regulation. RECAINSA is working with Transform Health to help fill this gap by leading the development, promotion and endorsement of the Principles in the LAC region, which are aimed at supporting quality, efficient and sustainable public health systems towards Universal Health Coverage. Undoubtedly, these principles are an important step towards the development of a global framework for health data governance that supports the use of digital technologies and data for the public good.
Which of the Health Data Governance Principles or clusters drew the most focus at the roundtable and why?
I believe that all the Principles received the necessary level of consideration. The eight Health Data Governance Principles are interconnected, but undoubtedly the most focussed cluster of Principles in our region were "Protect People" and "Prioritise Equity". One of the points discussed was linguistic diversity. In the region, there are several countries with multilingual populations, for example in Guatemala, there are 25 different languages spoken, this makes it difficult to obtain and use data. The aim should be to reach more people but also with language accessibility. It is important to use data in favour of vulnerable population groups, such as children, women, the elderly and other population groups. Data should be from them and for them. Mitigate data bias, because in Latin America there are different levels of maturity in the use of technologies in the countries, so it is important to promote it.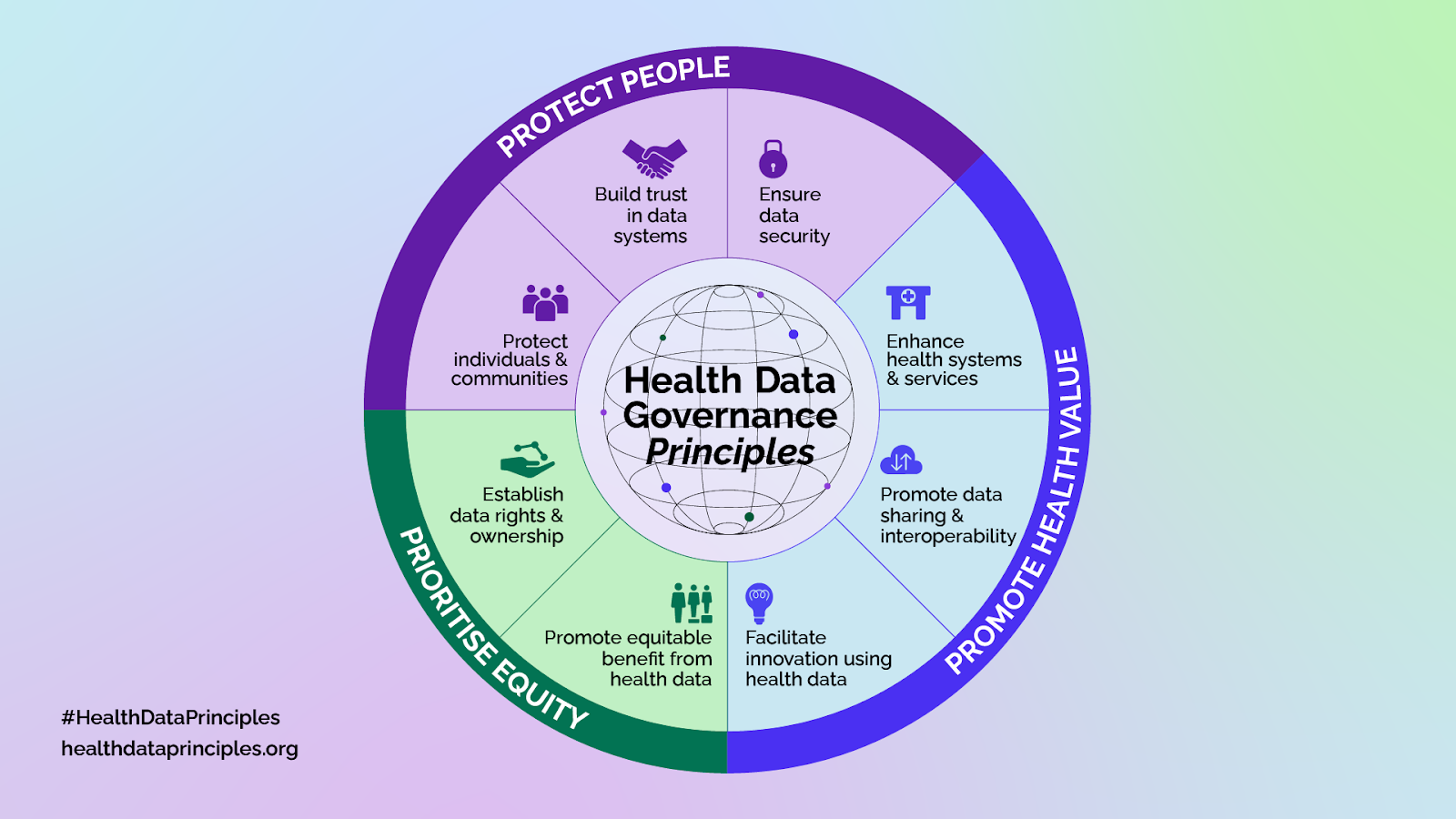 What were some of the key takeaways from the discussion?
RECAINSA aimed at directing the discussion towards developing a culture of data. RECAINSA used the Principles as a mechanism, because of their universal nature regarding the guarantees of protection of individuals and communities, of achieving access to health and of ensuring that such access is equitable for all.
What are some of the main challenges and opportunities for health data governance in the region?
The countries of the region are at different points in the process of digital transformation in healthcare, and therefore in health data governance. For example, Argentina and Chile are advanced, while Ecuador is lagging behind, but countries like Honduras and Nicaragua are in an embryonic stage. The regulatory issue is what is preventing many countries from making progress. Not having the necessary regulations to advance in the digital transformation of healthcare services is a barrier. It is necessary to promote national leadership to promote a digital transformation agenda. To this end, it is necessary to promote alliances between the public, private and civil society sectors. It is also necessary that this agenda has all the necessary infrastructure resources.
How is RECAINSA paving the way for stronger health data governance in the region?
As I mentioned before, RECAINSA is a connector that has become an interesting and important platform where different actors and sectors of our region converge. We have been working with the private sector for some years and with academia more recently, in the very short term we have started to work with governments. In addition, we maintain close collaboration with regional and subregional organisations, which allows us, as I mentioned, to have that platform where we can open the discussion, exchange ideas, share experiences and the best possible practices, first based on the principle of "not reinventing the wheel" and that the experiences that have been successful for some can be successful for others, but also the lessons learned. I believe that this process of digital transformation is not always a bed of roses, there are also many stumbles, and what better to learn from the stumbles of others to avoid going through the same thing again, and in this obviously the issue of data governance has been a priority given the context in which we are living, given the vulnerabilities we have seen in the region in terms of information security in general and that leads us precisely, as a platform, to develop some initiatives to accompany the process of change management in the countries of the region as these changes take time and always represent challenges.
Joseline Carías Galeano is a project consultant on topics related to digital transformation, she is a digital health promoter and networking activist at a global level. She is member of the Board of Directors and the General Manager at RECAINSA, an organisation formed by Latin American volunteers and professionals with the intention of supporting national and regional digital health strategies. Joseline was a key player in the development of the Health Data Governance Principles in the LAC region as part of the Data Policy Circle and promoter of its endorsement and implementation globally from her leadership role played from RECAINSA and Transform Health.