One of Transform Health's three key objectives is advocating for increased and better coordinated domestic and international financial investments to support the equitable, inclusive, and sustainable digital transformation of health systems in low and middle income countries.
To make the case for this vital requisite investment, we have launched a new report titled 'Closing the digital divide: More and better funding for the digital transformation of health: A Conceptual Framework to guide investments and action towards health for all in the digital age.'It provides an evidence-based approach to prioritise investment areas and define the level of investment necessary to support the financing of digital health transformation.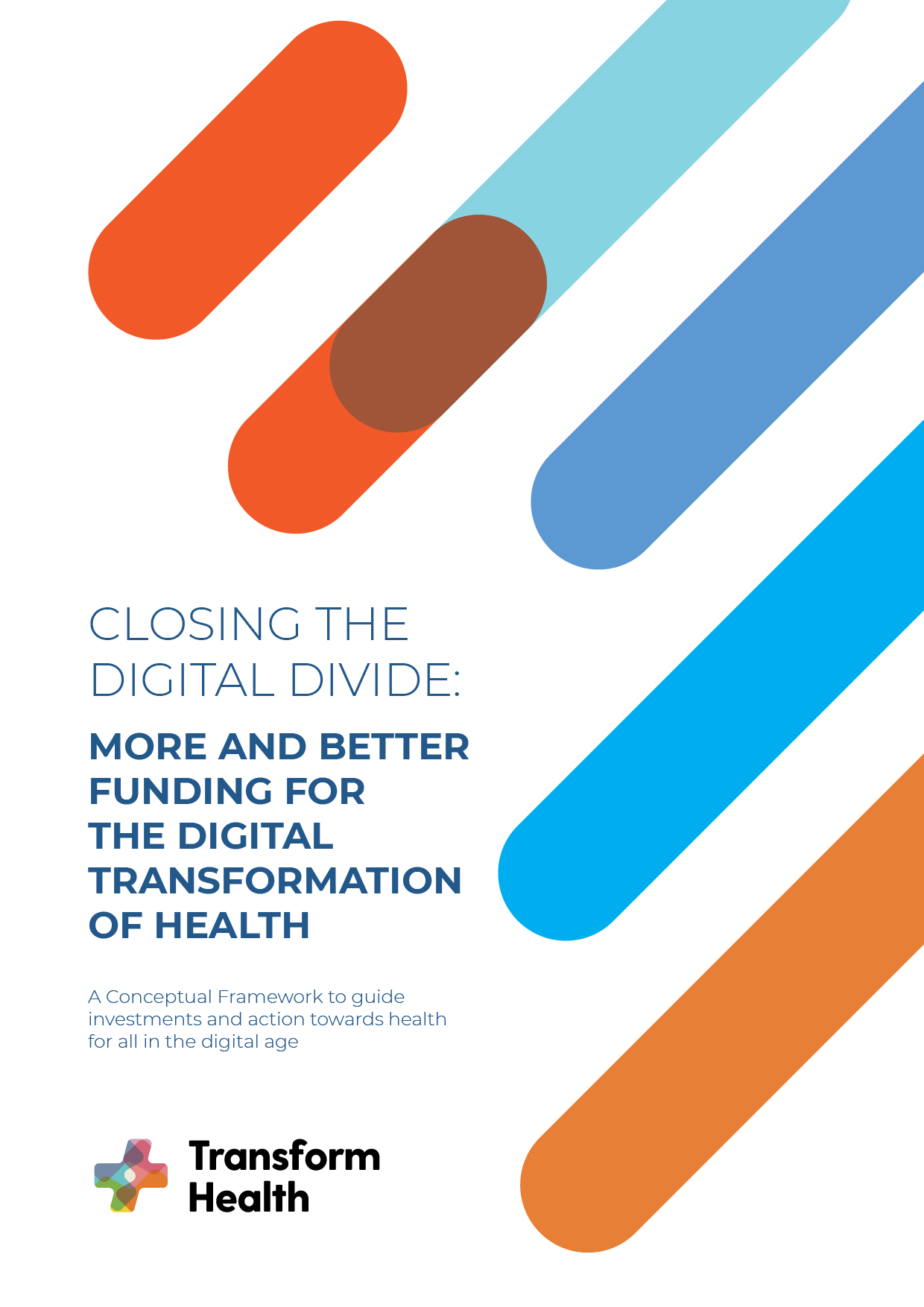 "We have reached a stage in global digital health where we are collectively thinking beyond the introduction of individual digital solutions, instead focusing on guidance and investments in the architecture and the enabling environment for digital transformation of health systems," says Prof. Alain Labrique, Director, Dept of Digital Health & Innovation, World Health Organization, who writes the Foreword to the report.
This report has been developed by Transform Health, with the support of its partners PATH and Joep Lange Institute, and with research contributions from regional networks and the Young Experts: Tech 4 Health. It was guided by Transform Health's Resource and Investment Circle and a dedicated global group called the Global Research Consortium that was established to contribute to the development of the conceptual framework.The Global Research Consortium brought together regional and global partners and young people from around the world.
Recommendations:
The report lays out six key recommendations for national governments, corporates, and international donors to increase and improve investments towards building digitally-enabled health systems that improve health outcomes for all.
It calls for:
More investment from domestic and international sources
Better coordinated investments, aligned with national priorities
Costed national digital health strategies and investment road maps to guide transformation
Robust regulatory frameworks and policy environments in countries
Mechanisms for meaningful multistakeholder engagement in the digital transformation process, including civil society and marginalised communities
Improved digital connectivity, including coverage gaps, affordability and digital literacy
Infographic
View current global challenges in the funding landscape and the six key recommendations of the report in this infographic.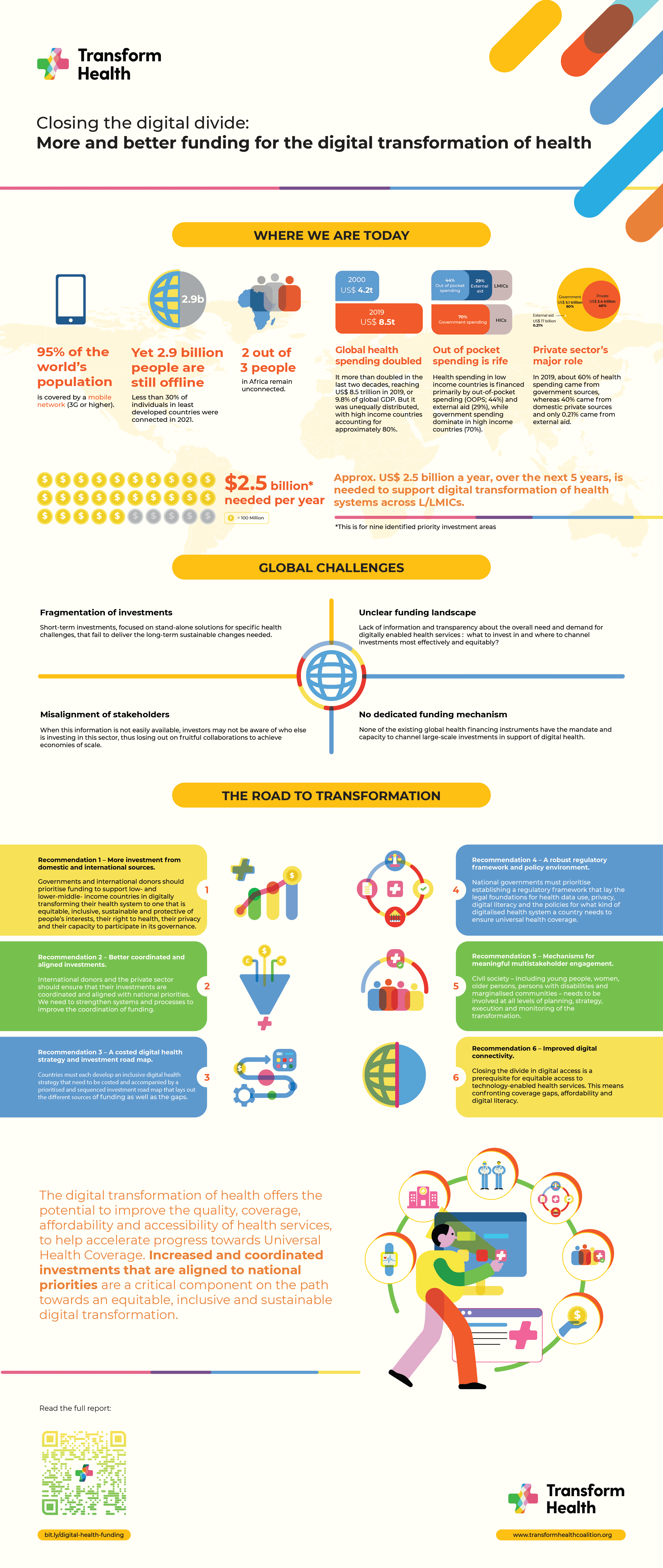 The report identifies nine priority areas for digital health investments, ranging from health financing to data governance. Based on a costed estimate of these nine areas, it estimates an annual investment of 2.5 billion USD over the next five years as a minimum requirement for progress to be made towards digital health transformation in low and middle-income countries.
Key within these priority areas is investment in greater digital connectivity. Christoph Benn, President of Transform Health says, "A large part of the total projected investment – about three-quarters of it – is for digital connectivity infrastructure within the health sector. This is a critical investment area to ensure that every health worker, health facility and household is connected. If ignored, the divide in connectivity will widen the health equity gap and further marginalise disadvantaged populations."
As countries across the globe demonstrate that digital health can lead to improved health outcomes, the digital transformation of health systems could hold the key to achieving Universal Health Coverage by 2030. Increased and coordinated investments that are aligned to national priorities are a critical component on the path towards an equitable, inclusive and sustainable digital transformation.
Mathilde Forslund, Executive Director of Transform Health, concludes, "The report is a milestone for Transform Health, as it will underpin the coalition's advocacy efforts with governments and international funders in the coming years to call for increased and coordinated domestic and international financial investments towards digital health transformation."