In the lead up to the 76th World Health Assembly (WHA76), taking place in Geneva from 21-30 May, Transform Health and its members are calling on Member States and the WHO to take action to: 1) strengthen health data governance (HDG) and 2) improve investment in digital health transformation. These areas must be prioritised as critical accelerators and components for Universal Health Coverage to be achieved by 2030!
Ask 1: Develop a global framework on health data governance in 2023
Political support is building for a global framework for the governance of health data. A global framework would establish high-level political commitment and alignment around a set of common regulatory standards for the governance of health data – to strengthen national legislation and regulation and govern health data sharing across countries. 
In January, the Government of the Maldives raised this issue at the 152nd meeting of the WHO Executive Board. The Government of Cameroon joined 150+ organisations in writing to WHO to request that HDG be on the World Health Assembly's agenda this year. The Ministries of Health of India, the Maldives and Sri Lanka are co-hosting a WHA76 side event (together with Transform Health) to foster a conversation on the need for stronger health data governance and a global framework. The health data governance principles – which could form the foundation for the development of a global HDG framework – have been endorsed by more than 140 organisations with the Ministry of Health of Sri Lanka adding their endorsement in the past few weeks. 
With demand for a global HDG framework growing among governments, civil society and other sectors, Transform Health is eagerly looking to WHO and its Member States to ensure that WHA76 is a galvanising moment to kick off the  development of a framework. Starting an inclusive and consultative process to develop a global framework following the World Health Assembly will make it possible for a framework to be endorsed by Member States through a WHA resolution in May 2024. 
To encourage swift action in moving this agenda forward, we are urging Member States to demonstrate their support during WHA76 by:
Requesting WHO to

begin working with Member States and other stakeholders this year to develop a Global Health Data Governance Framework 

Endorsing the

health data governance principles

as the foundation for the development of a global framework 

Participating in the health data governance

side event

co-hosted by the Ministries of Health of India, the Maldives and Sri Lanka on 24 May at 18:00 CET.
Watch our new video to learn more about this issue and needed action, and join our side event on the 24th to hear from governments and other stakeholders on how we can advance this agenda together.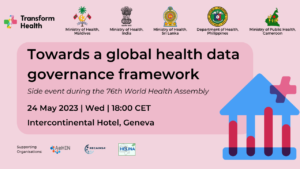 Ask 2: Invest in the digital transformation of health systems to accelerate UHC
Digital transformation is widely recognised as an important accelerator of UHC progress. However, in addition to weak data governance, insufficient and uncoordinated investments in digital health are preventing the potential of digital transformations from being fully harnessed for improved health outcomes.  
Last year, Transform Health published a conceptual framework to guide investments in digital health transformation. The report looks at the challenges within the current funding landscape for digital health and provides the first ever estimate of the funding gap for the digital transformation of health systems in low and lower-middle income countries.
The report also lays out six key recommendations for national governments, donors, and the private sector to increase and improve investments towards building digitally-enabled health systems that improve health outcomes for all.
During WHA76, many Member States will be deliberating how to achieve UHC by 2030, including as we look towards the UHC High-level meeting in September. Transform Health and its partners urge them to prioritise investments and actions needed to drive a more equitable, inclusive and sustainable transformation of health systems that deliver health for all.
On 23 May, Transform Health, DCCC, Geneva Digital Health Hub, OECD, PATH, UHC2030 and YET4H are organising a side event to discuss how the recommendations of the conceptual framework can be translated into concrete actions to drive more and better investments in the digital transformation of health systems and faster progress towards UHC.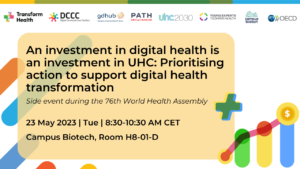 Three years ago at the World Health Assembly, governments endorsed the global strategy on digital health 2020– 2025 – a global commitment to prioritise digital health in achieving UHC and the health-related Sustainable Development Goals. To deliver on this commitment and wider UHC goals, it is critical that Member States and WHO move from commitments to action to prioritise digital health investment and stronger health data governance.