Universal Health Coverage (UHC) will be achieved by 2030 by harnessing digital technology and the use of data.
To build a global movement that brings together organisations and institutions across sectors who are committed to achieving UHC within the next ten years by expanding the use of digital technology and increasing access to data.
Building consensus and political will
Recognition of the fundamental role of digital technologies and data use to transform and strengthen health systems to expand primary health care which is an essential foundation for achieving UHC by 2030.
Advocating for a global health data governance framework
To allow for full beneficial, impactful, and responsible management of health data, while safeguarding data privacy, ownership and security.
Enabling increased and coordinated domestic and international financial investments
To strengthen digitally enabled primary health care systems in low and middle income countries to achieve UHC by 2030.
OUR VALUES
Equity
Everyone should have access to equitable, affordable, and high-quality healthcare.
Inclusion
Everyone should be included in the design, use and governance of digital approaches that may affect their health and well-being.
Rights
Everyone should be aware of and able to exercise their rights in relation to digital technologies and their own data.
Empowerment
Everyone should be able to make better decisions about their personal health using real-time health information and their own, protected health data.
Partnerships
Individuals and organisations should work together to ensure people are able to control their own data and achieve better health outcomes for themselves and their communities.
We are committed to promoting the perspectives and leadership of youth, women and marginalised groups in all aspects of our work.
SEE OUR EQUITY & INCLUSION DASHBOARD

WHY DIGITAL
HEALTH?
Digital transformation of health systems is happening – unless it happens faster, at scale and in an equitable manner, millions risk being left behind.
CHALLENGES
Low political will
Weak political understanding and support is preventing the sustainable adoption of effective digital solutions that would achieve health for all. In many countries and regions, particularly those with weak health systems, digital technology is being implemented in a piecemeal fashion, based on external programmes and priorities rather than being driven by needs on the ground. This results in weak country ownership and poor uptake of many initiatives. Many countries still lack effective legislation and regulation that would enable the digital transformation of health systems. Often funding is too low and inadequately distributed presenting another barrier to the effective use of digital technology to achieve health for all.
Excluding youth, women & marginalised groups
Digital health approaches and solutions are rarely driven or informed by the needs of women, youth and marginalised groups – who are being left behind in the effort to achieve global health goals. Such health interventions may respond to the few rather than the many, and exclude the specific health needs of underserved communities. Youth, women and marginalised groups must be consulted and meaningfully included in the planning and implementation of digital solutions that impact their health.
Infringing on people's digital rights and freedoms
Without stronger governance, clearer regulations, greater transparency and accountability driven by informed citizens, digital technology also has the potential to worsen health and well-being, increase inequities, and infringe on the human rights of individuals and communities, including their digital rights. Ethical and human rights concerns arising from the inappropriate application of digital technology and data are undermining confidence in digital technologies as a means of achieving universal health coverage. These risks include biased and unrepresentative data, data extractivism, increased surveillance on individuals, data misuse, and environmental harm.
OPPORTUNITIES
Accelerating progress to health for all
Digital transformation of health systems can improve the quality and efficiency of health services, extend their coverage to remote and rural populations, reach underserved populations, reduce costs, and foster more inclusive processes for health governance. In a nutshell, digitalised health systems can improve the access, affordability and accessibility of healthcare – and accelerate progress towards Universal Health Coverage (UHC).
Strengthening primary health care
Digital technology and data have a critical role in increasing the coverage and effectiveness of primary health care (PHC) – which is widely recognised as an essential foundation to achieving UHC. Expanding quality PHC is a sound economic investment as it reduces total healthcare costs and reduces hospital admissions. Digital tools can address health system barriers by enhancing access to health information and services; ensuring more effective systems integration, allowing for greater transparency and accountability, and increased participation of individuals and communities.
Increasing benefits from health data
The digitisation of health records, diagnostics and consumer applications, are exponentially increasing the availability of health data. When effectively governed, health data can lead to quicker response times from doctors, more accurate diagnoses, more targeted distribution of medicine and equipment, improved medical research and more efficient health systems. Health data can also address social and environmental determinants of health, for example by predicting disease outbreaks and the health impact of extreme weather events, and assessing which population groups are most affected by different drivers of health inequities and require differentiated support.
HOW
WE WORK
Transform Health operates on a network governance model organised around different circles that fulfil specific functions. Each Circle works on one or more of our stated objectives. These working circles are represented by coalition partners and consist of the following: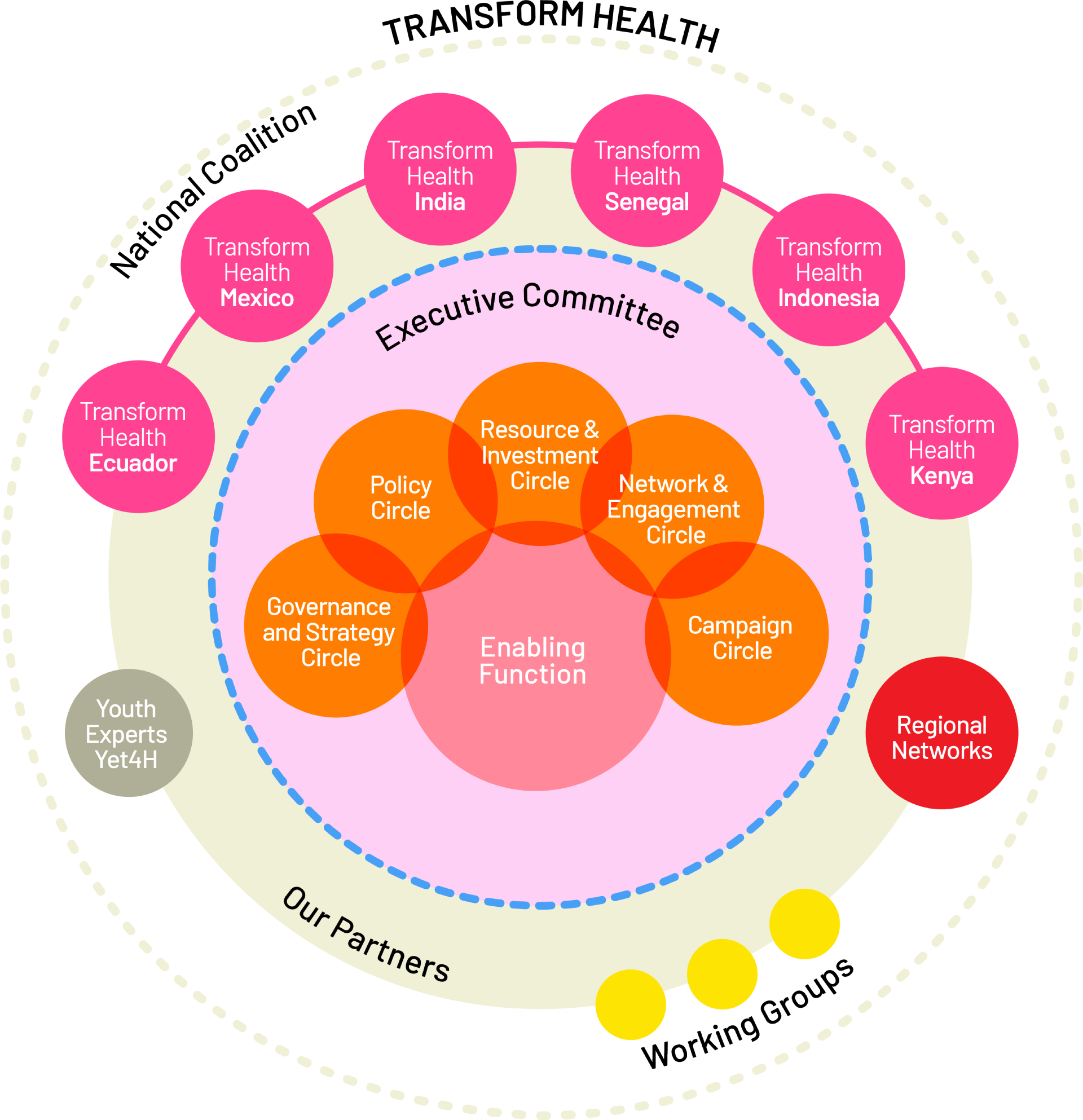 Executive Committee
The Executive Committee oversees the governance and decision-making of the Coalition, and functions as the Board of Directors.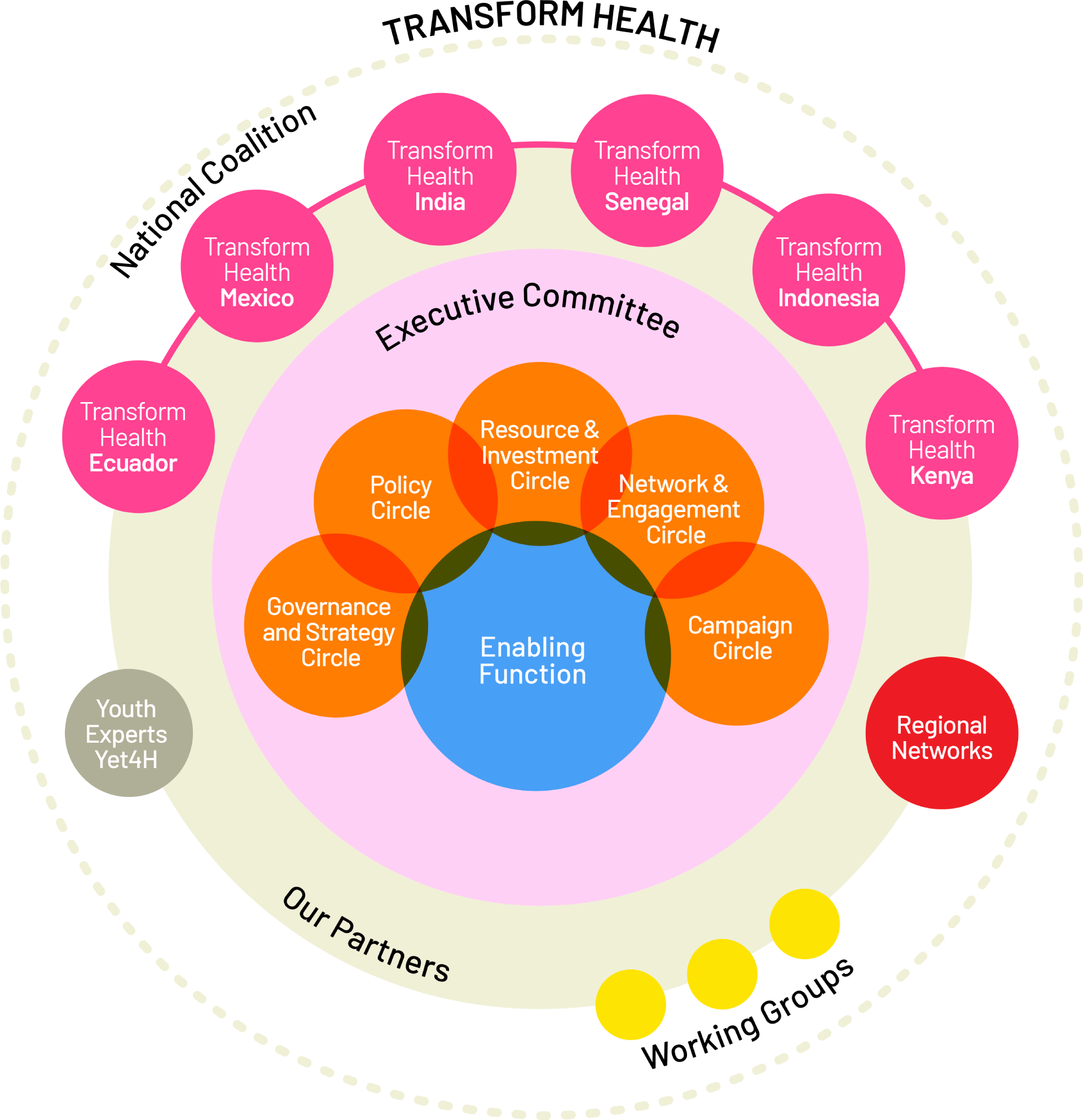 Enabling Function
The Enabling Function serves as the secretariat of the coalition, and implements the coalition strategy. It facilitates coordinated action across the coalition and oversees its day-to-day operation.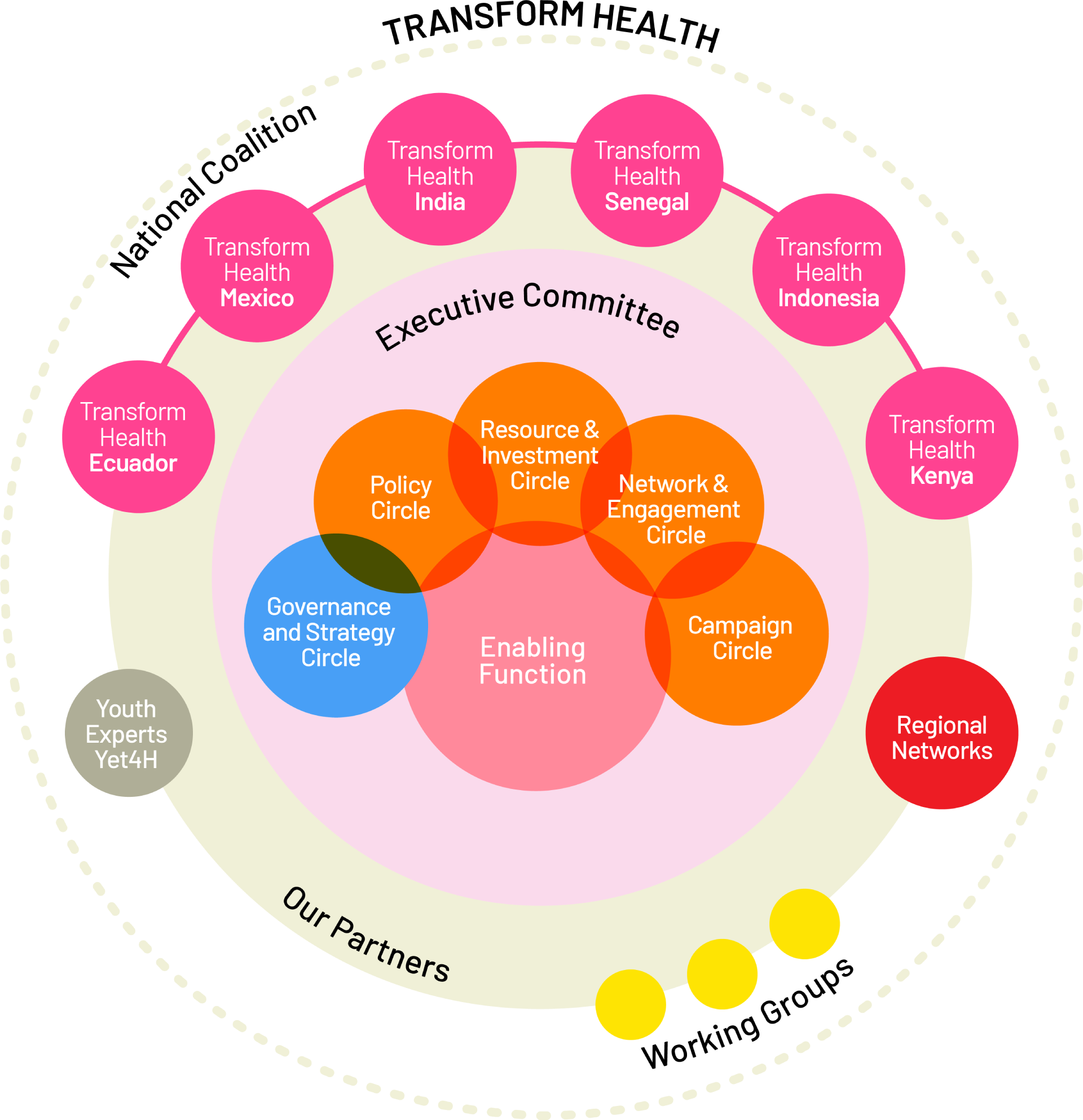 Governance and Strategy Circle
The G&S Circle sets the overall strategy and governance of the Coalition.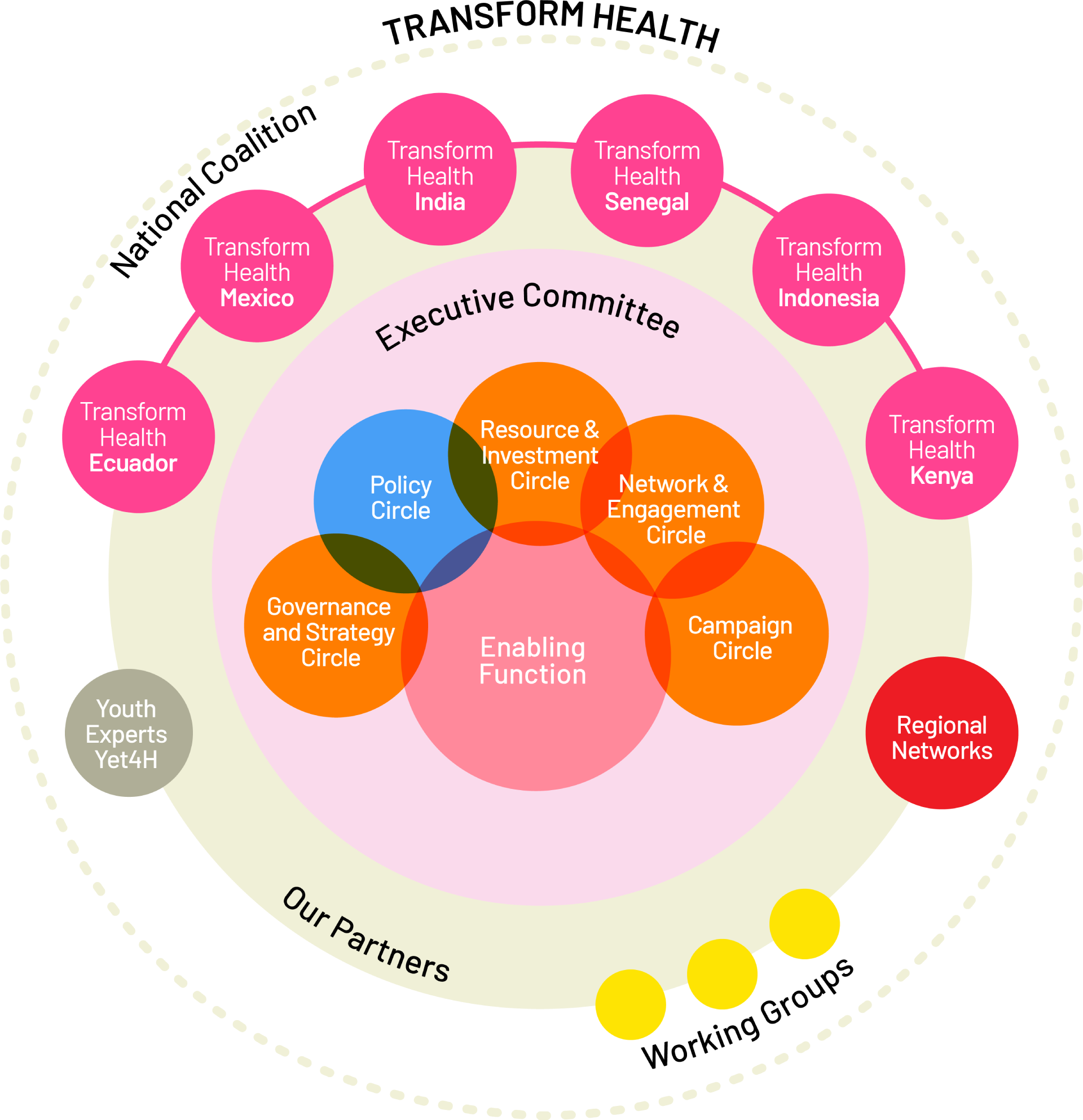 Policy Circle
The Policy Circle provides thought leadership for the Coalition, particularly on how to strengthen global and national health data governance frameworks to enable equitable, meaningful and trustworthy health data management.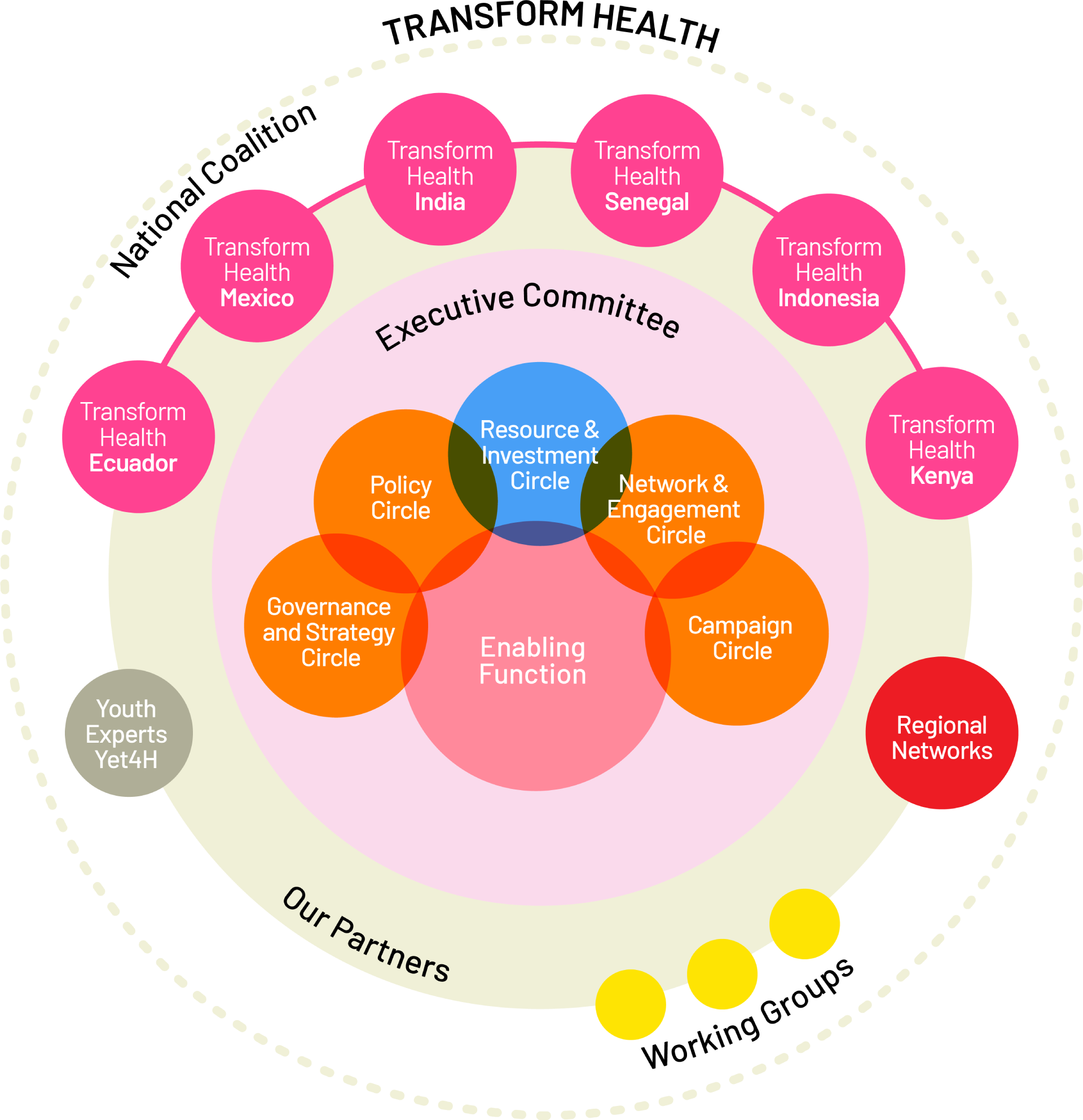 Resource & Investment Circle
The Resource and Investment Circle convenes investors and key stakeholders with the end goal of increasing domestic and international investments for digital health transformation.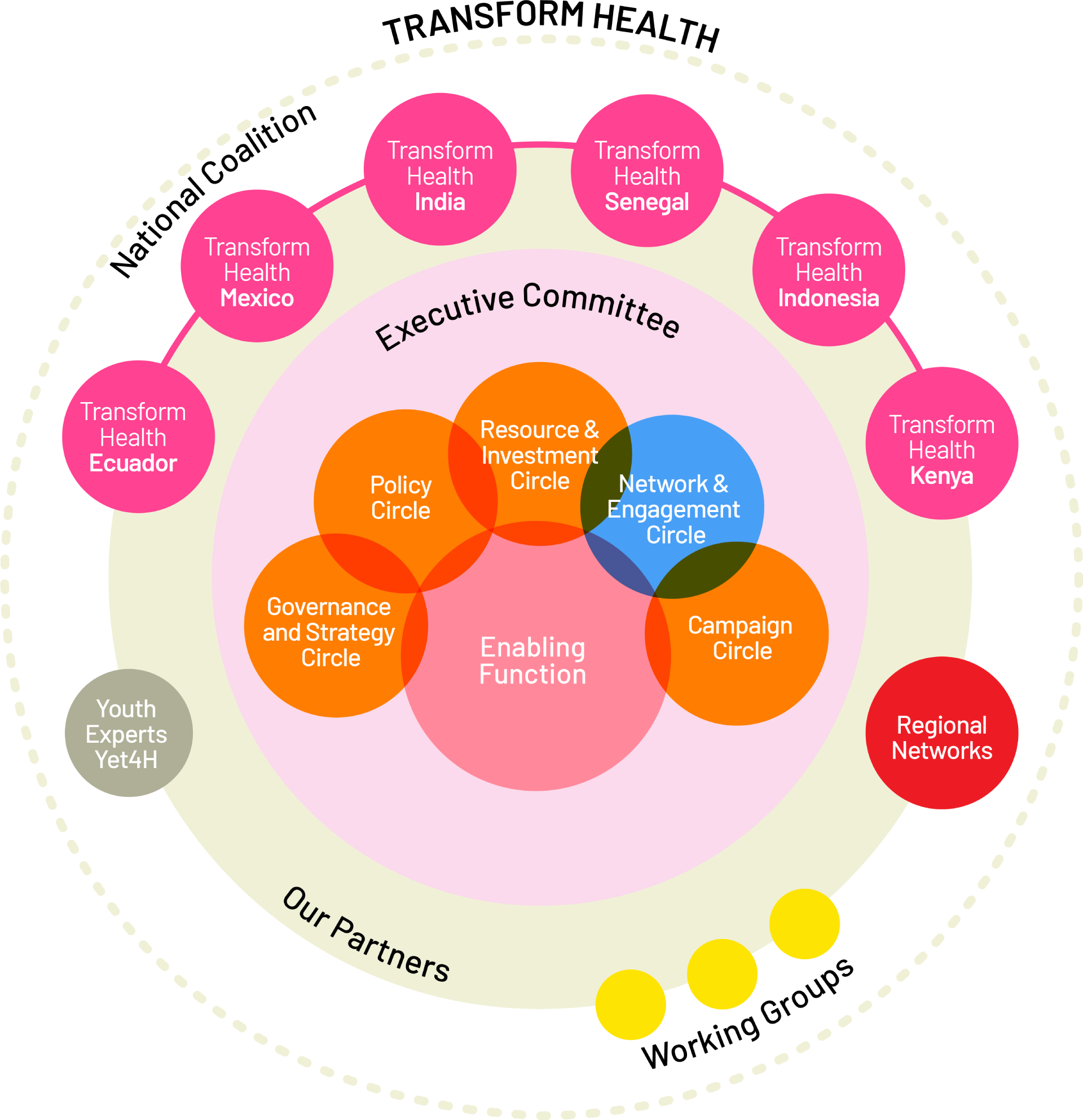 Network & Engagement Circle
The Network & Engagement Circle guides Transform Health in strategic engagement issues so that it can build and sustain the partnerships necessary for a strong and effective global movement.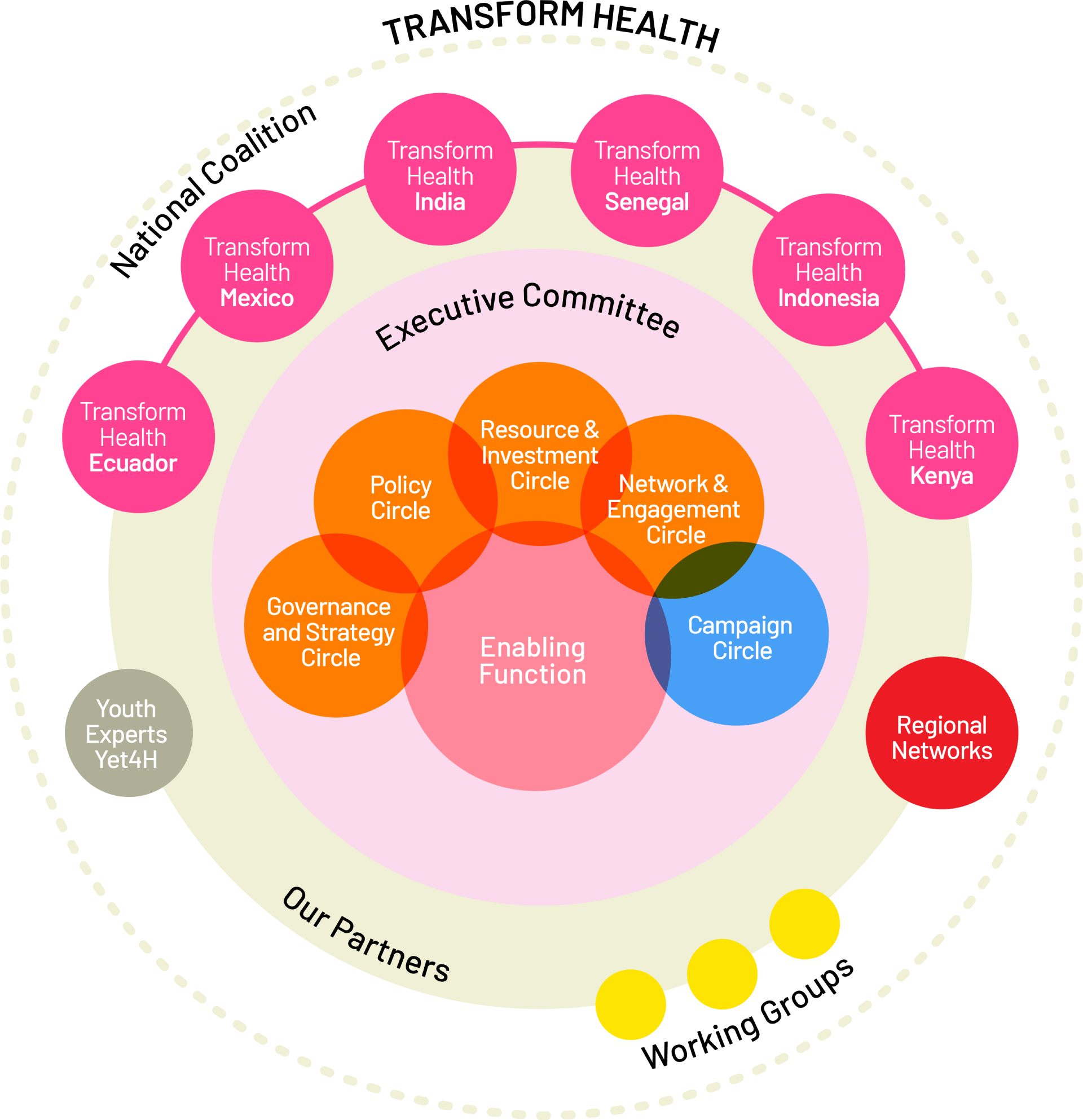 Campaign Circle
The Campaign Circle drives and coordinates Transform Health's campaigning and advocacy activities at national, regional and global levels.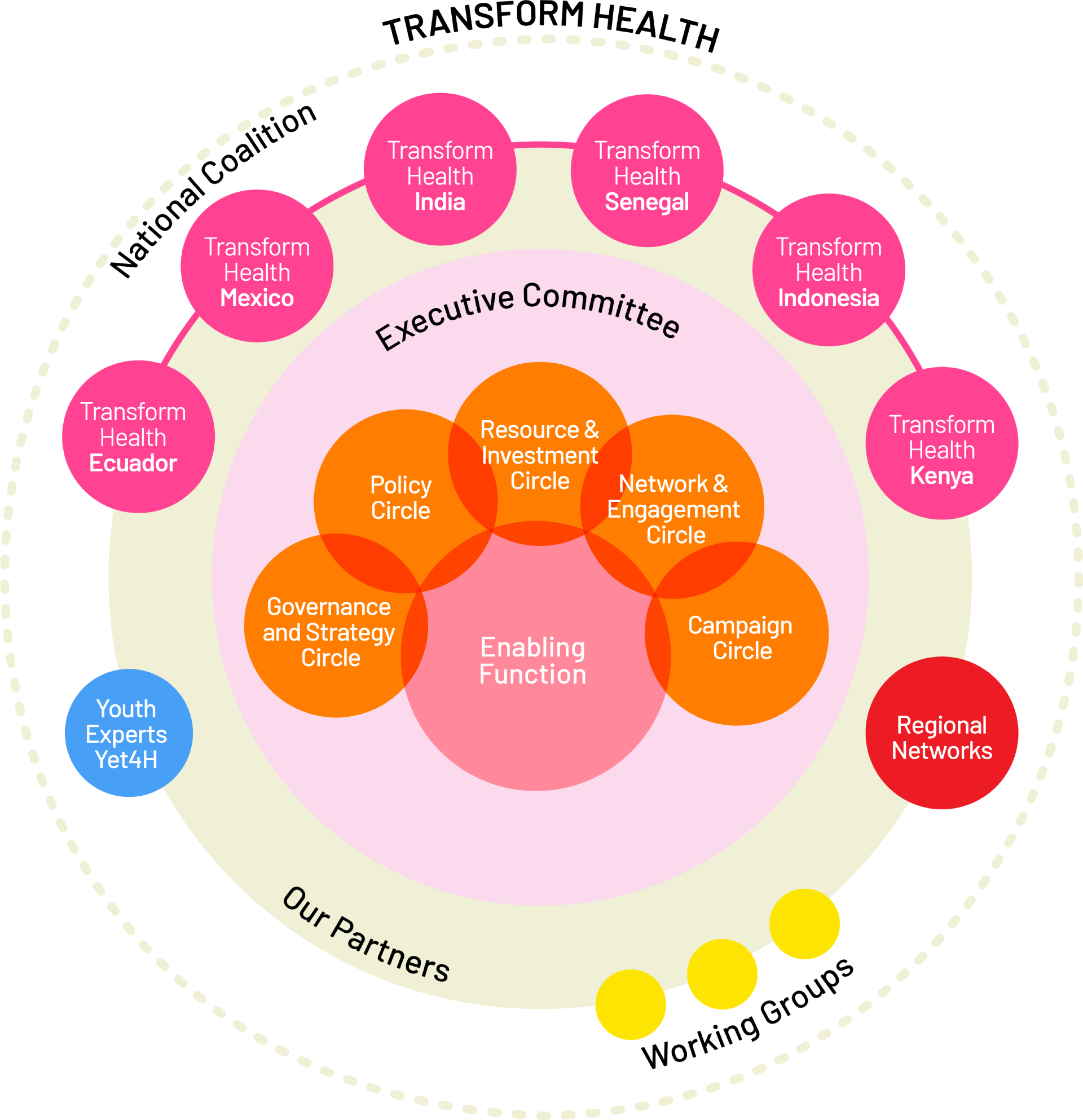 Young Experts : Tech 4 Health (YET4H)
YET4H is an independent Youth Council that contributes to all aspects of Transform Health's work through strategic guidance and technical inputs. It is composed of 12 experts in policy and advocacy, health, digital technology and youth engagement between ages 18-30. Members actively engage in network governance and co-lead working circles. Follow them on Twitter or Instagram and visit their website..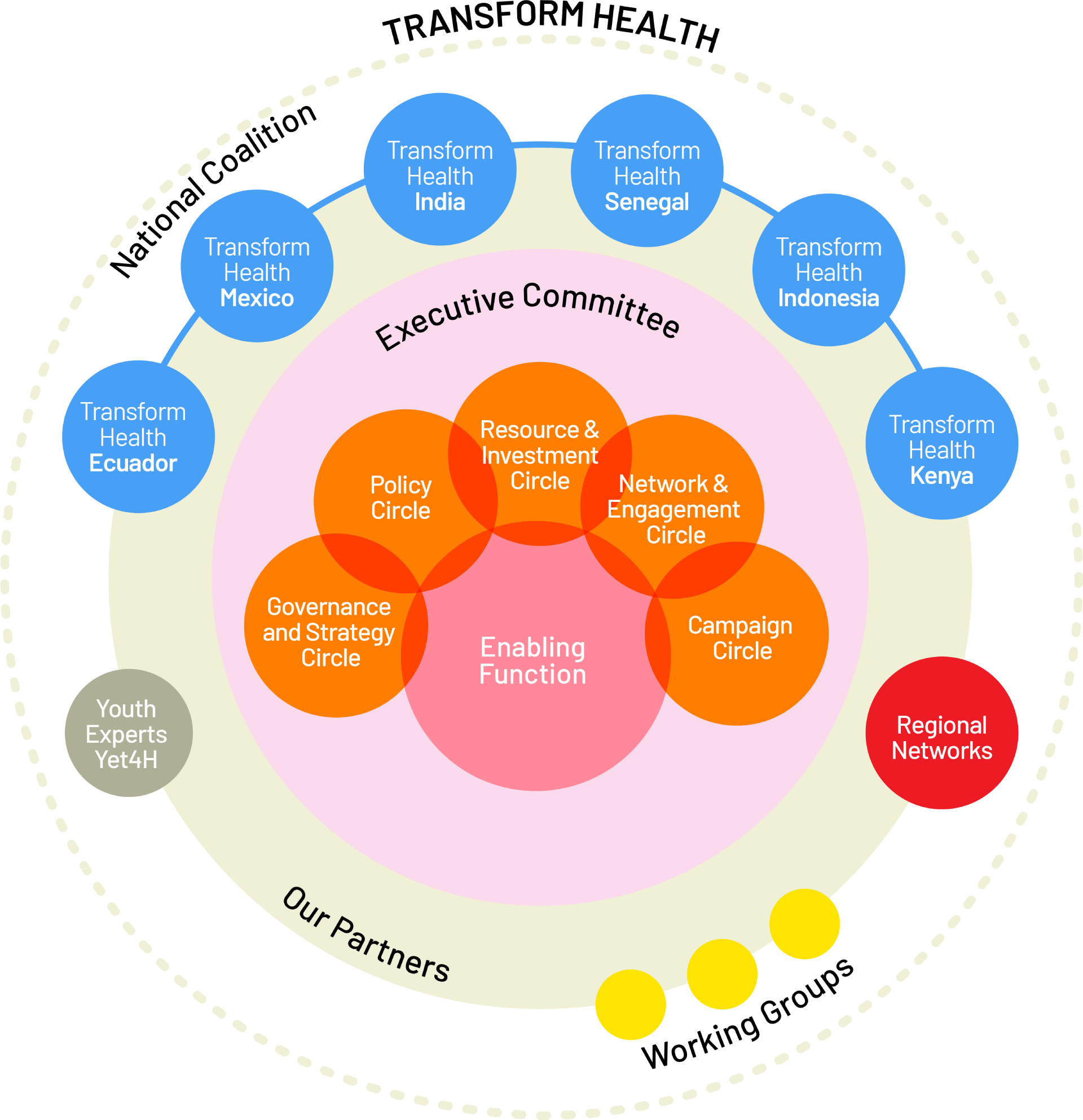 National Coalitions
Transform Health has set up 6 national coalitions in priority countries whose purpose is to work together to localise Transform health's strategy, influence their governments and bring about changes in the national strategy that will contribute to the coalition's overall goals.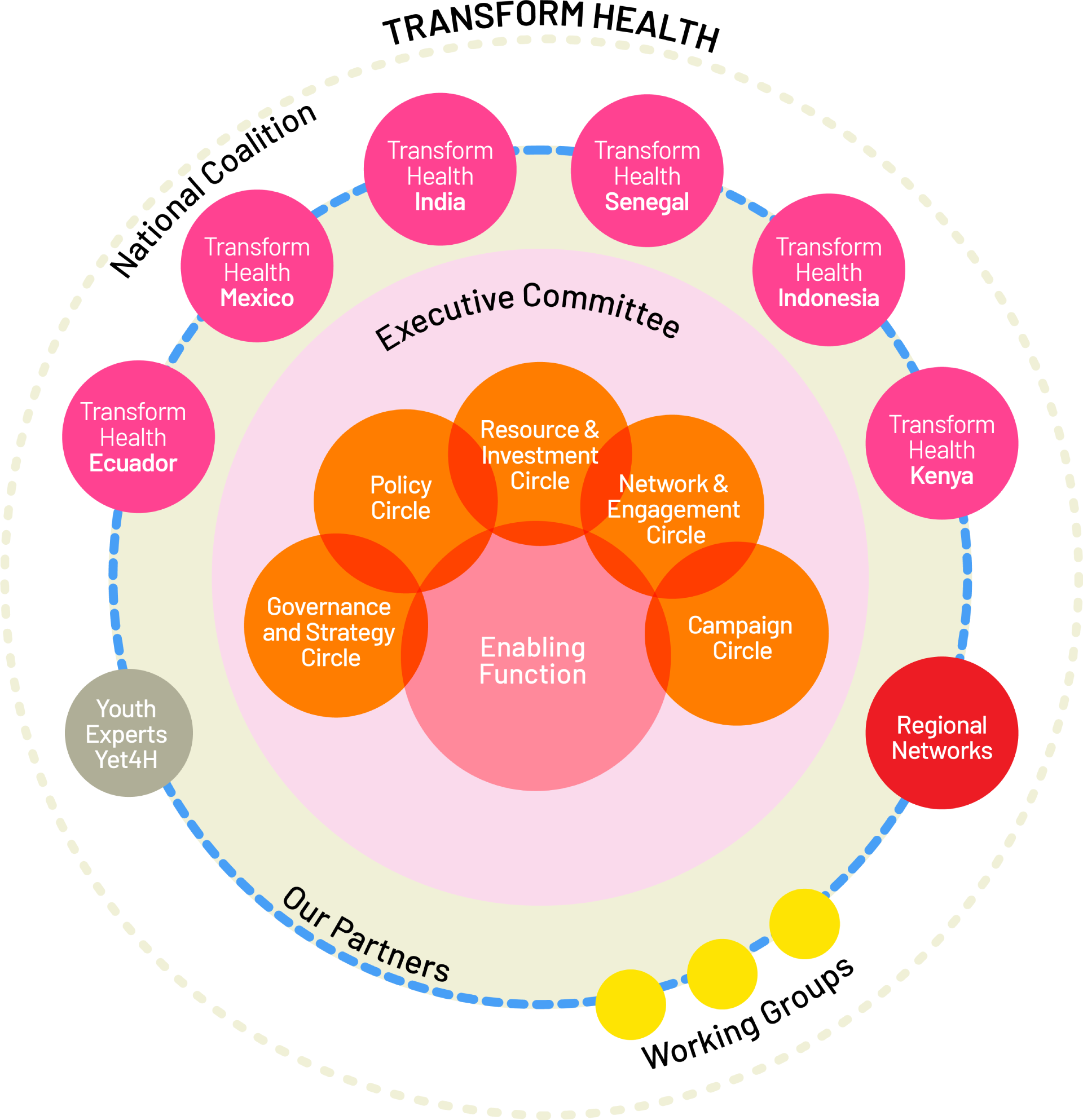 Partners
Transform Health is a broad-based coalition, involving partner organisations collaboratively working towards a common goal. Transform Health partners collaborate in a variety of ways, such as – sitting on our Circles or working groups, participate in the coalition's activities, amplify the coalition's messaging to its networks, bring together relevant stakeholders to drive the coalition's mission and provide in-kind support and expertise to further the coalition's vision.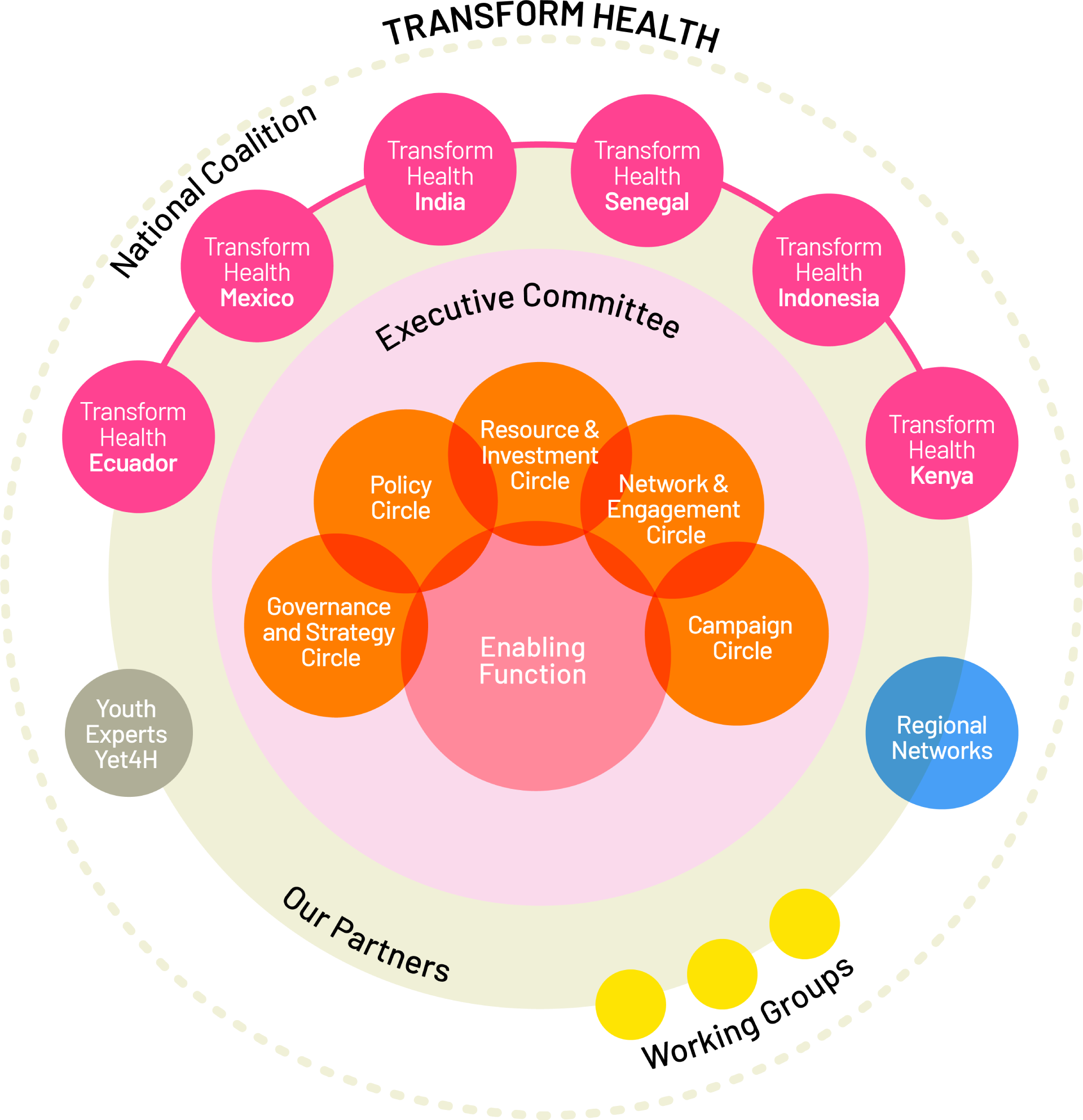 Regional Networks
Transform Health convenes partners around a select number of short-term working groups each year, focussed around our annual strategic priorities. These groups complement the work of our Circles and are open to all coalition partners to join.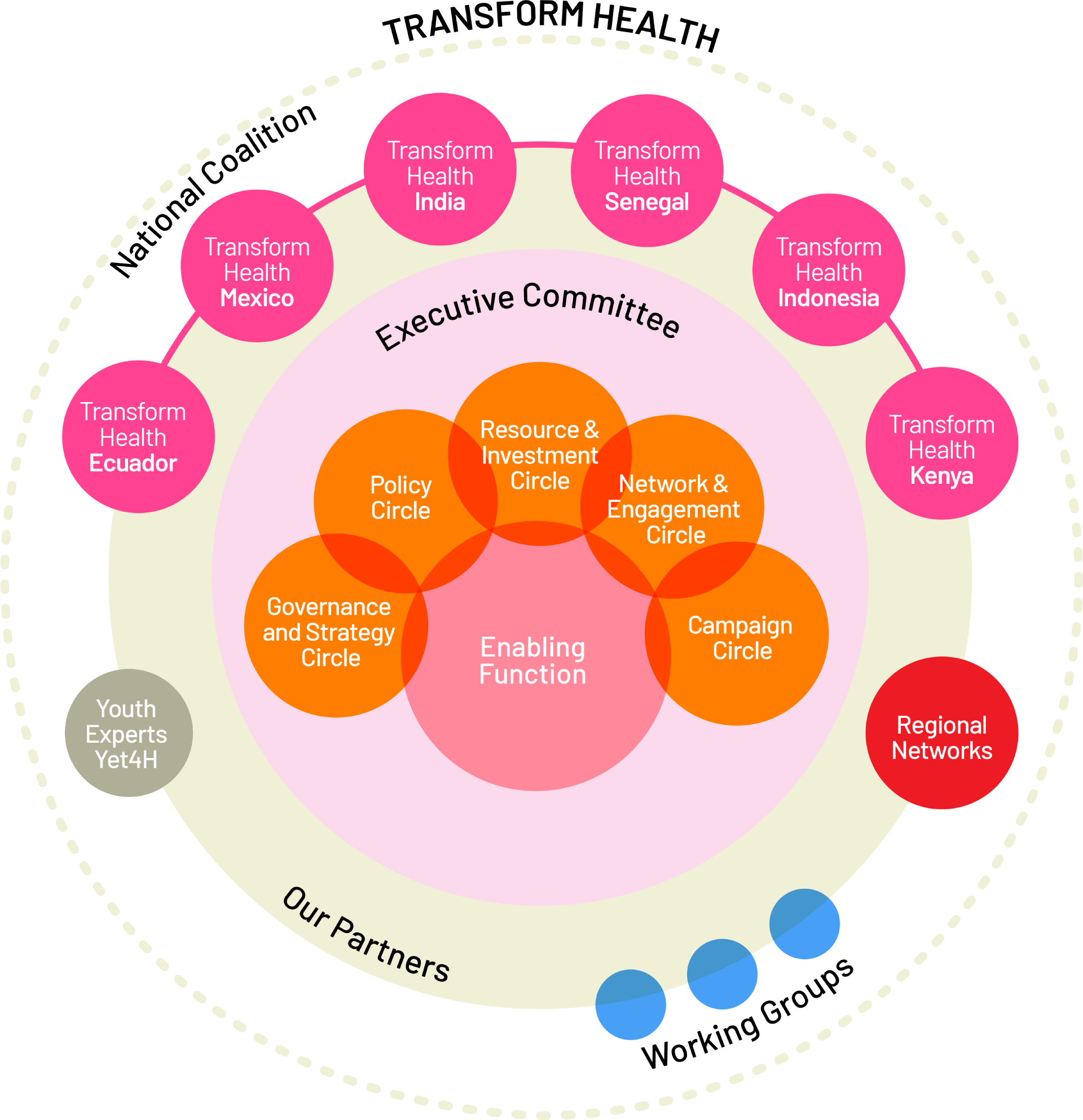 Working Groups
Transform Health convenes partners around a select number of short-term working groups each year, focussed around our annual strategic priorities. These groups complement the work of our Circles and are open to all coalition partners to join.
CIRCLE CO-CHAIRS
GOVERNANCE & STRATEGY CIRCLE
Policy Circle
Campaign Circle
Resource & Investment Circle
Network & Engagement Circle